Farm house holiday homes, Bed & Breakfast rooms, village apartments in the Chianti Classico area of Tuscany

Vacation rental apartments - pool (near Impruneta)
Looking for a place to stay near Impruneta? Podere Capiteto offers three vacation apartments for 2 (+1) persons. We are located just 3 km from Impruneta (and within easy reach of Florence by bus). Impruneta is accessible in a few minutes by car or by a pleasant walk along almost flat country roads. We have a large swimming pool for the use of our guests and plenty of open space for picnics under the olive trees with a view of Florence and the Val d'Arno in the distance. More about Podere Capiteto Tuscany vacation apartments.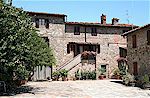 Village Apartment (in Montebeni, very near Greve)

The tiny hamlet of Montebeni is within easy walking distance of the main piazza of Greve in Chianti and of the stop for buses to and from Florence. We offer three, newly-renovated, vacation apartments for 2, 3 and 5 persons. The apartments are fully-equipped and have spacious, modern bathrooms. The elevated location provides fine views and cool breezes in summer. More about Montebeni vacation apartments.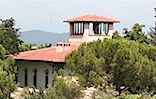 Country B&B Rooms and Apartments - pool - WiFi (near Greti and Greve in Chianti)
Corte di Valle offers 13 spacious, two-person, B&B rooms in a magnificent Tuscan villa and neighbouring former hunting lodge. Swimming pool with panoramic views and air conditioning are available. Ideal accommodation for wedding parties as well as couples and families. Two four-person self-catering apartments are also offered. Breakfasts (and other meals by arrangement) are provided in our private restaurant or the sun terrace. Wine tasting and a tour of the wine cellars available upon request. Corte di Valle is famous for its saffron production. More about Corte di Valle Bed and Breakfast rooms and vacation apartments in Chianti.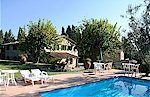 Country Apartments - pool (near Panzano and Greve)
Il Cascino provides holiday apartments in a restored farmhouse and its dependencies less than 1 km from Montefioralle and 3 km from Greve in Chianti. The property is surrounded by a stand of cypresses. We offer vacation apartments for 2 up to 6 persons. Adjoining apartments may be rented for larger groups. More about Il Cascino Chianti holiday apartments.

Country Apartments - pool (near Greve)
In Patrizia Falciani's country rentals, each apartment has a garden or a private loggia. The swimming pool is surrounded by a garden from which you can enjoy beautiful sunsets across the Greve valley. Apartments for 2, 4 and 5 guests. More about Agriturismo Patrizia Falciani.

Country Apartments - pool (near Greve)
Le Terre di Melazzano offers farmhouse holidays with hospitality in four independent apartments for 2 to 5 persons sleeping a total of 13 guests, 1 km from the centre of Greve. Swimming pool and sun terrace. More about Le Terre di Melazzano.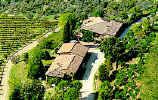 Country Apartments - pool (near Greve)

Antico Borgo di Sugame is a working vineyard that offers vacation rentals in two old farmhouses and one separate cottage, located in spectacular hill country between Greve and Figline. Apartments for 2 to 6 persons. More about Antico Borgo di Sugame.

Country Apartment and B&B Rooms - pool (near Greve)
Le Cetinelle is a beautiful, centuries-old Tuscan farmhouse surrounded by woodland. Six double bedrooms with en suite bathroom and breakfast, plus and apartment for 5 (+1) guests. More about Le Cetinelle Agriturismo.

Country Apartments - pool (near Greve)
Casa Mezzuola. Three apartments each for two persons forming the hamlet of Mezzuola in the Chianti hills near Greve. Wonderful views. More about Casa Mezzuola.

Country Apartments and B&B Rooms - pool (near Greve)
Podere Torre is a small vineyard where olive oil and wine of excellent quality are produced. Apartments for 2 and 4 guests, and B&B rooms for 2 and 3 guests are available throughout the year. More about Podere Torre vacation apartments.